Venezuelan and International Reactions to Chavez's Reelection
There have been domestic and international reactions to the reelection of Hugo Chavez last night in Venezuela's presidential election, while the final vote tally has widened Chavez's margin of victory to almost 11%.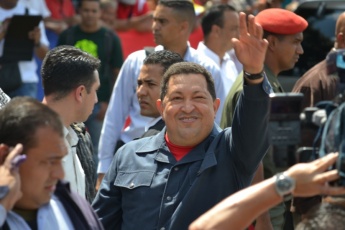 President Hugo Chavez (Photo: Ryan Mallet-Outtrim)
Chavez Wins Venezuelan Election with 54% of the Vote
Hugo Chavez has won the Venezuelan elections with over 54.44% of the vote against 45% of the vote for opposition candidate Henrique Capriles.
Hugo Chávez wins Venezuelan election, securing fourth term in office
Venezuelan president retains power after 14 years in office, recording 54.5% of the vote against rival Henrique Capriles
Hugo Chavez Defies Doubters As He Wins A New Term
Chávez Victory Affirms Left Still Thriving in Latin America
Hugo Chávez re-elected in Venezuela: 'Venezuela will continue along the path of democratic and Bolivarian socialism of the 21st century.'
U.S. 'Congratulates' Venezuela on Election
If you enjoyed this post, please consider to leave a comment or subscribe to the feed and get future articles delivered to your feed reader.