By Tamara Pearson
March 05, 2013 – Venezuelanalysis.com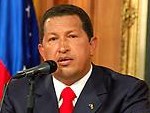 After two years of battling cancer, President Hugo Chavez has died today at 4.25 pm.
Vice-president Nicolas Maduro made the announcement on public television shortly after, speaking from the Military Hospital in Caracas, where Chavez was being treated.

Military and Bolivarian police have been sent out into the street to protect the people and maintain the peace. For now, things are calm here, with some people celebrating by honking their car horns, and many others quietly mourning in their homes.
Maduro made the announcement just a few hours after addressing the nation for an hour, accusing the opposition of taking advantage of the current situation to cause destabilisation.
"Those who die for life, can't be called dead," Maduro concluded.
Source: http://venezuelanalysis.com/news/8033
***
Hugo Chavez dead after battle with cancer, Vice President says
President Hugo Chavez, the fiery populist who declared a socialist revolution in Venezuela, crusaded against U.S. influence and championed a leftist revival across Latin America, died Tuesday at age 58 after a nearly two-year bout with cancer.
RIP El Comandante: Hugo Chávez (1954-2013)
Hugo Chávez Dead at 58; US Military Attache Expelled
If you enjoyed this post, please consider to leave a comment or subscribe to the feed and get future articles delivered to your feed reader.