September 18, 2001
Bush called the U.S. effort a "crusade."
PARIS, Sept 18: As US President George W. Bush strove on Tuesday to build a world coalition against terrorism, experts warned that his choice of language could widen the gulf between the United States and the Islamic world.

Middle East watchers and diplomats winced when he used the word "crusade" to describe his anti-terror campaign and sighed when he recalled the rough justice of the Wild West in saying he wanted Osama bin Laden "dead or alive". He uses a lot of cowboy terminology, Full Article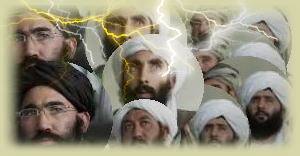 Taliban cleric vows holy war against U.S.
KABUL (Reuters) - Afghanistan's ruling Taliban movement will launch a holy war against the United States, a senior cleric said on the Taliban's Voice of Shariat radio, warning Washington against attacking his country.

Officials of the Islamic movement moved quickly to say that the deputy chairman of the Taliban Council of Ministers, Mullah Mohammad Hassan Akhond, was not in a position to declare a holy war, or jihad, and a final decision lay with a council of clerics due to convene this week.

"I would like to tell my people that our jihad will be formally resuming against the Americans," Akhond said in a speech broadcast on the radio late on Monday and monitored by the BBC.

Akhond's remarks reiterated a call from Mullah Mohammad Omar, spiritual leader of the purist Taliban movement, for holy war if the United States attacked. Full Article
USA's responsibility in last week's terror attacks!
( Iniyan Elango ) I love everything about America : the people, the music, the food, the society, the humour and even the women!! There was a time when I wished that I was born in the USA!! I used to sing with Bruce Springsteen as a teenager to the tune of "Born in the USA" with hairs sticking straight on my skin!! And I am crazy about American films! As a child I was brought up on a diet of Newsweek, Time (magazines) and Rock and Roll in a quaint town in northern Tamil Nadu which was known for its match factories! Full Article
War of the flea
( Bukka Rennie ) What a world! What could the perpetrators of last Tuesday's dastardly, devastating horror of the levelling of the World Trade Center and the Pentagon, symbolic seats of American capitalism and military might, really hope to gain?

They hope that America will eternally be true to its history and its national psyche. They hope that America, just as was the case in the aftermath of Pearl Harbour, will bomb the Arab regions into smithereens, confiscate the properties of Arab-Americans and imprison them in concentration camps, that the American news media with all their famous anchor-personnel will work their people's emotions to the hilt and whip up a frenzy given their penchant for melodrama, that American people will vent their spleen on their Arab-American neighbours, beating them up and, with the help of the police force, kill Arab-Americans in the street, etc. Full Article
Bush denounces attacks on Muslims
( CNN ) President Bush has called for an end to racist violence in the United States in the wake of Tuesday's attacks on the World Trade Center and the Pentagon.

Speaking at Washington's Islamic Centre, Mr Bush condemned what have been described as revenge attacks on Muslims and other members of ethnic minorities saying that acts against the innocent violated Islamic teaching.

Earlier, India's Prime Minister Atal Behari Vajpayee appealed to Mr Bush to protect Indian citizens living in the US after a Sikh was shot dead in Arizona on Saturday in what is believed to have been an ethnically motivated killing.

About 40 hate crimes are being investigated by the FBI with director Robert Mueller warning that vigilante attacks, as he called them, would not be tolerated. Full Article
India-Ex navy chief-Warning
The former chief of the Indian Navy has cautioned the government against "unconditional" support to an American retaliatory strike against suspects in last week's terrorist strikes in the U.S.

Interviewed by a Mumbai evening daily, Admiral (Retd) Vishnu Bhagwat on Monday pointed out that the U.S. had never supported or helped India in the context of terrorism in Kashmir, in the aftermath of Indira Gandhi's assassination, or after the 1993 Mumbai bomb blasts. He felt the government should take all these factors into account before offering its support.

Admiral Bhagwat made national headlines as the first serving defense chief in the history of post-independence India to be dismissed by the central government in December 1998 for refusing to comply with the government's appointment of his second-in-command, Vice-Admiral Harinder Singh.

Asked whether he thought a war was on the cards, Admiral Bhagwat said, "War against whom? We cannot wage a war against terrorists. The whole thing is a figment of imagination of India's External Affairs Minister Jaswant Singh. I don't think this would escalate into any war." Full Article
Lead on terrorist attacks reaches into Ruhr area
Karlsruhe. After the strikes in the USA a lead has now been found in the Ruhr area. According to statements made by Federal Attorney General Kay Nehm, a member of the already familiar Hamburg student organization has stayed in Bochum from time to time. The man originating from Lebanon has supposedly been reported as missing by his girlfriend, who lives in Bochum. The investigators reportedly searched two apartments in connection to this and secured a suitcase with aeronautical documents. Nehm added, in addition, that so far there is no reference to a connection between the student organization and the Islamic leader Osama Bin Laden. Full Article
Iran won't back U.S. raid on Afghanistan
( CNN ) TEHRAN, Iran (CNN) -- Iran will not support any U.S. military action against neighboring Afghanistan in response to last week's attacks in New York and Washington, two top Iranian officials said Monday.

"We do not believe just in order to punish a bunch of terrorists it is legitimate to attack a country," Iranian Foreign Minister Kamal Kharazi told CNN.

Iran's supreme spiritual leader, the Ayatollah Ali Khamenei, told a meeting of clerics and officials that any military action against Afghanistan would "lead to a new human catastrophe." Full Article
Perceiving the Situation
Beyond Bush and his ilk predictably trying to use calamity to propel their reactionary agendas on every front they can, from repressive legislation about eavesdropping, to military expansion, and even to tax policy -- it is certainly also true and must be faced that many citizens are in a violent mood, suggesting all kinds of anti-civilian acts. So many that it feels overwhelming.

But how many U.S. citizens who are advocating bombings realize that the people of Afghanistan already live in a horrendously war-torn country, made virtually rubble from its war with Russia? How many understand that hunger and the danger of starvation for Afghanistan is so great that a misstep at this juncture – for example, cutting off all outside food aid, even without bombs – could cause not thousands but literally millions of innocent deaths by starvation? Not many of our citizens, is my guess. When such information is conveyed, how many will hold to the vengeful stance? When it becomes evident that vengeance by assault on civilians is precisely terrorism, that assault on civilians for political purposes is precisely terrorism, how many will want to hold to warring indiscriminately, to being a terrorist? One wonders how many of those working at Ground Zero in NYC would wish military devastation on innocent civilians in another country. Not many, if any, is my guess. Full Article
[ SEPTEMBER HOMEPAGE ]