September 19, 2001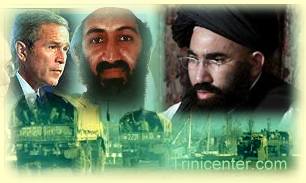 Russia uneasy about US plans
The head of the Russian Security Council, Vladimir Rushailo, has said that any action would have to be within international law and avoid civilian casualties. Mr Rushailo was speaking in Kazakhstan, on the first leg of a tour of five Central Asian states to discuss the threat from international terrorism. Full Article
Islamabad has bowed to US pressure

Islamabad has bowed to US pressure for assistance in military action against Afghanistan, following last week's suicide attacks on the World Trade Centre and the Pentagon, which left thousands dead.

In his speech, General Musharraf acknowledged that many of his countrymen were bitterly opposed to his support for the US, but argued that the move did not go against the principles of Islam.

Pakistan has been witnessing mounting protests by Islamic students and religious leaders against the move to support the US. General Musharraf said: "Pakistan is passing through a very serious time... our decision will impact on our future." "What we are doing is in accordance with Islam, truth and justice," he said.

General Musharraf confirmed that the US had asked Pakistan for "intelligence and information" as well as the use of Pakistan's airspace and "logistical support". But the General insisted he had always stood by Afghanistan's Taleban rulers and pleaded on their behalf with world leaders.

On Tuesday, thousands of students from an Islamic seminary gathered near the American consulate in Karachi, shouting slogans against the United States. Police were deployed to prevent them from approaching the consulate. It was the largest such demonstration in recent days.

Religious leaders in Pakistan have warned that such protests could turn violent if the US launched an attack on Afghanistan.
The Importance of History
( Amon Hotep ) Following the attacks on America, people suddenly realized they needed to know more about other cultures in the world, and about different religious and political structures, which were previously ignored in schools.

The belief that one's familiar cultural view is the only way and all others are irrelevant is the ignorance that feeds demands for unrealistic and even more destructive actions and reactions. Full Article
Islamic groups warn of Indonesia violence
Radical Islamic groups in Indonesia have warned they will attack American targets in the country if the United States takes military action against Afghanistan. Full Article
War Games: American Television
( Terry Joseph ) But it did appear as if US television network executives took up a position in the game. Fearing a waning of global sympathy for crash victims and the star spangled banner during the period required to upgrade America's prime suspect to the status of definite culprit, prime time went full-time. Full Article
China, Iran seek U.N. role in retaliation
( The Washington Times ) China and Iran led an effort yesterday to push the United States into obtaining United Nations approval for any military activity against Afghanistan for harboring terrorists.

China made such U.N. approval a condition of its help to the United States, as did Iran. Those nations, as well as Afghanistan itself, also urged the United States to submit evidence of terrorist suspect Osama bin Laden's involvement in attacks last week on the United States.

Over the weekend, Pakistan and Italy also suggested a leading role for the United Nations.

Despite U.S. dismissals of U.N. approval, Bush administration officials said yesterday the United Nations had a role to play in forming a broad coalition against terrorism.

"It is necessary for the U.N. Security Council to play its due role," Chinese President Jiang Zemin told British Prime Minister Tony Blair in a telephone conversation, Chinese news reports said. Full Article
Taliban cleric to decide as U.S. plans
Taliban's supreme leader Mulla Mohammad Omar has warned the United States against making hasty judgments in determining the culprits behind the attacks on US cities. In a message read out by Afghan Ambassador Mulla Abdus Salam Zaeef during a press conference in Islamabad on Friday, Mulla Omar said Osama bin Laden is innocent as he (Osama) could not have masterminded the attacks owing to lack of resources. "Where are Osama's pilots and where were they trained," Mulla Omar inquired.

Mullah Omar's statement comes as Afghanistan is bracing for possible military retaliation from the US. Mulla Zaeef said Bin Laden had no fax, Internet connection or satellite phones. He said any US attack on Afghanistan without solid evidence would be tantamount to terrorism. The ambassador said the Taliban would consider extradition of Bin Laden if the US provided "solid and convincing" evidence of his involvement in terrorism.

Zaeef said they would be ready to consider the evidence against Osama but the process would be in two phases. In the first phase they should present the evidence and in the second phase "we would consider it". When asked whether Afghanistan would react to US attacks the Ambassador said the Taliban would see how they can react.

He sympathized with the families of those killed in New York and Washington and said they were innocent people with no political role. The Taliban embassy spokesman later said that neutral investigations should be carried out to nab the real culprits involved in the attacks on US cities. He said the western countries are engaged in "biased posturing" towards Afghanistan because there is an Islamic system in Afghanistan.
[ SEPTEMBER HOMEPAGE ]