September 21, 2001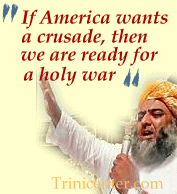 Pakistan protests turn violent
Four people have died and several others have been injured in the Pakistani city of Karachi as pro-Taleban protests there turned violent. They are the first deaths after days of protests against the Pakistan Government's decision to back the United States in its campaign against Afghanistan.

Thousands of people have taken to the streets across the country in what correspondents describe as the largest such gatherings in recent days. Full Article
Double jeopardy
( cairotimes.com ) Arab- and Muslim-Americans, bracing for the worst after the World Trade Center attack, mobilize their communities while appealing to the fair-minded America for tolerance and restraint

"Sand niggers go home!" spewed one. "Bastards of Islam shall die!" declared another. Within just hours of the 11 September plane crashes into the World Trade Center in downtown Manhattan and the Pentagon in Washington, D.C., the Internet was rife with postings of hate directed against Arabs and Muslims. Bias attacks quickly followed suit.

On 12 September in Bridgeview, Illinois, police stopped 300 marchers chanting "USA! USA!" as they tried to approach a mosque in this Chicago suburb. A 19-year-old marcher told the Associated Press, "Iím proud to be American and I hate Arabs and I always have." Full Article
Address By President George Bush To A Joint
Session Of Congress And The American People
We have seen the state of our Union in the endurance of rescuers, working past exhaustion. We have seen the unfurling of flags, the lighting of candles, the giving of blood, the saying of prayers -- in English, Hebrew, and Arabic. We have seen the decency of a loving and giving people, who have made the grief of strangers their own.

My fellow citizens, for the last nine days, the entire world has seen for itself the state of our Union -- and it is strong.

Tonight we are a country awakened to danger and called to defend freedom. Our grief has turned to anger, and anger to resolution. Whether we bring our enemies to justice, or bring justice to our enemies, justice will be done. Full Article
The Choice Is Ours
All the elements are in place NOW for an attack against Afghanistan. Carrier-based fighter jets are in position and on alert, heavy bomber squadrons and airborne assault divisions have landed in north Pakistan. An attack may well take place in the dead of night there, hours before President Bush takes the extraordinary step of addressing both houses of Congress tonight at 9pm.

What is going on? Since the government is tightly controlling all information, without challenge from the mainstream media, we can only make educated guesses about the nature of the attack and its potential consequences.

Afghanistan's mountainous eastern border with Pakistan, especially around the city of Kandahar, is the power base of both the Taliban's supreme leader, Mullah Omar, and Osama bin Ladin and his networks of "Afghan Arab" fighters. We can expect that US fighter jets will secure the airspace and then heavy bombers will pound this region for a sustained period, followed by airborne "search and destroy" missions against Taliban and bin Ladin forces.

There are several immediate strategic problems with this approach: Full Article
Code names Infinite Justice and Crusade offends Moslems
THE code name for the U.S. response to last week's atrocities - Operation Infinite Justice - is likely to be changed to avoid offending Moslems, it emerged yesterday.

American defence secretary Donald Rumsfeld was told at a Press briefing that several Islamic scholars objected to the name on the grounds that, in their view, only God, or Allah, can mete out infinite justice.

'I understand. I understand,' Mr Rumsfeld replied. 'And obviously, the United States does not want to do or say things that create an impression on the part of the listener that would be a misunderstanding - and clearly that would be.' It is the second time in a week that language has been used by U.S. officials which some Moslems might find offensive.

The White House has said it regretted if President Bush's calling for a 'crusade' against terrorism had offended anyone.

Yesterday Mr Rumsfeld acknowledged that 'someone, somewhere' had dubbed 'some preliminary aspect' of the Pentagon's military preparations Infinite Justice. The code name had been passed on to reporters by defence officials on Wednesday, along with news of deployments of U.S. warplanes.
[ SEPTEMBER HOMEPAGE ]