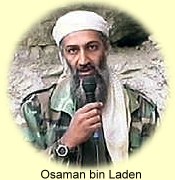 October 07, 2001
The bombing begins
( Guardian UK ) The US and Britain launched a massive air onslaught on Afghanistan last night, including 50 cruise missiles and wave after wave of heavy bombers, in the opening blow of what President George Bush vowed would be a "sustained, comprehensive and relentless" campaign against Osama bin Laden and his supporters.

Cruise missile strikes aimed at crippling anti-aircraft defences were followed by high-altitude and stealth bomber raids aimed at airfields and camps run by Bin Laden's al- Qaida organisation and the ruling Afghan Taliban. Full Article
Bin Laden Says U.S. 'Full of Fear'
Osama bin Laden praised God for the Sept. 11 terrorist attacks and swore that America "will never dream of security" until "the infidels armies leave the land of Muhammad," in a videotaped statement aired after the strike launched by the United States and Britain against Afghanistan on Sunday.

The taped comments appeared to be made in daylight, which would mean that the video was made before the Sunday night attack on Afghanistan. Bin Laden was shown dressed in fatigues and an Afghan headdress. Full Article
Bin Laden: "Behind acts of terrorism are Russia, Israel and India"
( Kavkaz.org ) Osama bin Laden once again rejected accusations in his address in connection with air attacks on USA on September 11. He declared it in interview with one of the Pakistani newspapers, issued in Urdu. Bin Laden declared, that it is necessary to search for traces of attacks in Israel, Russia or India. Enemies of Islam and true Christianity developed the plan of attacks for USA. "I do not exclude that fact, that the states, like Russia, Israel, India could carry out similar attacks", declared Bin Laden, "You see, it is impossible to be biased completely to exclude that fact, that even the Jews are extremely dissatisfied with election on the post of the president of USA, George Bush, that they can stand up for these attacks" - emphasized Bin Laden. Full Article


Bin Laden warns US
( BBC ) Osama Bin Laden has warned the United States that it will never enjoy security unless Islamic territories are also safe.

In a statement broadcast on Al Jazeera television, thought to have been recorded during daylight hours on Sunday, Bin Laden said the United States had declared war on Islam and called on Muslims to support their religion.

The statement was also broadcast on CNN television shortly after US President George Bush announced retaliatory attacks on Afghanistan had begun. Full Article
Giants of flesh and steel
AL-AHRAM
After the 11 September terrorist attacks, the instant news-and-views power of cyberspace came into its own. But there may be a price. Amira Howeidy reports

Governments of the Industrial World, you weary giants of flesh and steel, I come from Cyberspace, the new home of Mind. On behalf of the future, I ask you of the past to leave us alone. You are not welcome among us. You have no sovereignty where we gather.
--- John Perry Barlow Continue here...
[ BACK ] [ HOMEPAGE ] [ OCTOBER ] [ NEWS ]