WAR ON TERROR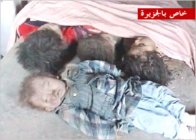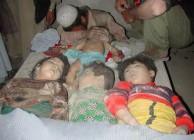 Oct 28, bombing victims Aljazeera - Reuters


October 26, 2001
Updated December 12, 2001


"A Dossier on Civilian Victims of United States' Aerial Bombing of Afghanistan: A Comprehensive Accounting"

By Professor Marc W. Herold

December 12, 2001 - "When people decry civilian deaths caused by the U.S government, they're aiding propaganda efforts. In sharp contrast, when civilian deaths are caused by bombers who hate America, the perpetrators are evil and those deaths are tragedies.

When they put bombs in cars and kill people, they're uncivilized killers. When we put bombs on missiles and kill people, we're upholding civilized values. When they kill, they're terrorists. When we kill, we're striking against terror." Full Article

US bombs hit wrong target for second time in two days

By Richard Lloyd Parry in Jalalabad
Independent UK

December 03, 2001 - The American hunt for Osama bin Laden appeared to have gone tragically wrong for the second time in two days yesterday, when US bombers were said to have killed scores of civilians in eastern Afghanistan as well as mujahedin fighters supporting the battle against al-Qa'ida.

A senior mujahedin commander said US strikes killed more than 100 civilians around Agam, 25 miles south of Jalalabad, on top of at least 70 killed in air raids on Saturday night. At least eight of the latest victims were guards and government officials of the Eastern Shura, the council of anti-Taliban mujahedin leaders who now hold eastern Afghanistan. Full Article

Afghan Villagers Say 200 Killed

By Chris Tomlinson Associated Press Writer

December 01, 2001 - JALALABAD, Afghanistan –– Coalition bombing raids in eastern Afghanistan struck three villages and killed scores of civilians, witnesses and anti-Taliban commanders said Saturday. The U.S. military said it has no evidence any of its airstrikes hit civilians.

Witnesses and survivors at a nearby hospital said between 100 and 200 villagers were killed Saturday when warplanes dropped more than 25 bombs in four passes over the village of Kama Ado, 30 miles south of Jalalabad. Full Article

Fatal errors that led to massacre

December 01, 2001 - As the net tightened around the Taliban leadership yesterday, questions were being asked about whether the bloody end to this week's prison siege at the 19th-century Qala-i-Jhangi fort outside the northern Afghan city of Mazar-i-Sharif will be the defining moment of the Afghan war. Pictures of aid workers picking their way through the corpses of Taliban prisoners killed by a combination of Northern Alliance fighters and American bombings, have caused revulsion around the world. Full Article

Woman, child crushed by US aid drop bundle

Sapa-AFP - November 29, 2001 - BUNDLES of humanitarian relief supplies dropped over Afghanistan by a US military aircraft hit a house, killing a woman and child, the US military said on Wednesday. It was the first known (reported by AFP) mishap involving air drops of food and other supplies to refugees inside Afghanistan.

"A woman and a child were killed when a humanitarian assistance delivery of wheat, blankets and cold weather equipment landed on the dwelling," the US Central Command said in a statement. Full Article

BLOODY SUNDAY: US bombing error kills 12 in Kabul

Sapa-AFP - October 28, 2001 - One bomb devastated three homes in a poor part of the Afghan capital. A couple and six of their children were killed in one house and two children next door, residents told AFP at the scene. Badly mutilated bodies were lined up outside and relatives of the dead angrily condemned the US raids Full Article

US bombing error kills nine

BBC - October 28, 2001 - A US missile fired has struck a village in Afghan territory controlled by the anti-Taleban Northern Alliance. Nine people from two families were killed when the bomb hit the village of Ghani Kheil on Saturday afternoon, according to Red Cross sources, and up to 20 were injured. The opposition had earlier called on the US to inflict heavier bombing on Taleban forces on the front lines. MORE

More bombing of non-military targets: a list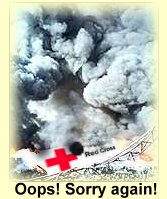 Editor's Note:
We believe the bombings of the Red Cross buildings are quite deliberate as the U.S. believes the Taleban may be hiding personnel and weapons in these buildings.

In today's raids a Red Cross center in Kabul was reportedly hit for the second time this month, destroying relief supplies, and three children were among five civilians said to have died in overnight raids.
Following is a list of incidents where there is evidence from witnesses or non-Taliban sources of non-military targets being hit by US bombs: Full Article / Full Article
130-plus civilians killed: report
MORE than 130 Afghan civilians were killed in three villages near the Taliban's southern stronghold of Kandahar after intense US bombing raids, the Afghan Islamic Press has reported. It said the final civilian death toll from the attacks in the three villages could exceed 300, with 133 bodies already recovered from one community called Shah Aga. Full Article
Nov 16: 11 civilian casualties reported
US planes bombed Kandahar overnight, continuing a pattern of relentless strikes on the city and its environs. The Pakistan-based Afghan Islamic Press said the Taliban's foreign ministry was wrecked, along with a mosque located in the eastern part of the city. It claimed at least 11 civilians were killed, but that could not be independently confirmed. Many US claims cannot be independently confirmed also. Full Article
King's ransom: How vulnerable are the Saudi royals?
By Seymour M. Hersh

Since 1994 or earlier, the National Security Agency has been collecting electronic intercepts of conversations between members of the Saudi Arabian royal family, which is headed by King Fahd. The intercepts depict a regime increasingly corrupt, alienated from the country's religious rank and file, and so weakened and frightened that it has brokered its future by channelling hundreds of millions of dollars in what amounts to protection money to fundamentalist groups that wish to overthrow it. Full Article
Abdul Haq captured by the Teleban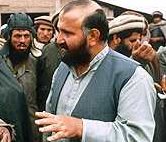 BBC - The Taleban say they have executed Afghan opposition commander Abdul Haq, who was captured in Afghanistan. Mohammed Tayyab Agha, a spokesman for Taleban leader Mullah Omar, told the BBC that two of Mr Haq's men, captured with him, had also been executed.

He said at least one American had been travelling with Abdul Haq and was now on the run.

Mr Haq, one of the best-known guerrilla commanders who fought against the Soviet occupation of Afghanistan in the 1980s, is thought to have slipped back into the country from Pakistan with the aim of raising a rebellion against the Taleban.

Taleban forces captured Mr Haq after surrounding his hiding place south of the capital, Kabul. Full Article
U.S. blow to civil liberties
Delivering a blow to civil liberties, the U.S. Crusading President George W. Bush has signed new laws that will give already corrupt law enforcement agencies tools for greater abuses.
The laws with our editor's comments in italics:

- Make it a crime to knowingly harbour a terrorist (People opposed to U.S. policies are already classified as terrorists).

- Allow the attorney general to hold foreigners considered suspected terrorists for up to seven days before charging them with a crime or beginning deportation proceedings. (Giving more time to manufacture 'evidence')

- Let federal authorities obtain court orders for "roving wiretaps," which would allow them to tap any phone a suspected foreign terrorist might use rather than a single phone. (Legalizing what is already done)

- Make it easier for U.S. criminal investigators and intelligence officers to share information. (To further manufactured misinformation and ensure the plot is synchronized with other agencies.)

- Give the U.S. Treasury Department new powers to target foreign nations and banks deemed money-laundering threats. (To further intimidate small nations and ensure there is no financial secrets from the U.S.)

- Permit law enforcement to obtain a subpoena to get from Internet providers records about the e-mail transmissions of suspected terrorists. (Legalizing what is already done) Reuter's reporting here... / A clear and present danger!
Control of Central Asia's oil is the real goal
The Telegraph, London

For all the talk of international alliances and the future of Afghanistan, the real game in Central Asia is control of the region's lucrative oil supply.

Since the fall of the Iron Curtain, Russia has kept Central Asia's huge oil and gas reserves bottled up by restricting access to export pipelines - all of which run over Russian territory.

The United States has been pushing alternative pipeline projects out of the region that do not run over Russian soil. Full Article
In Pakistan's Tribal Regions, Fierce Support For Taliban
By Yoichi Clark Shimatsu Pacific News Service

In Pashtun towns along the Afghanistan border, Pakistan law is helpless to prevent pro-Taliban mobilization. Men of the tribal regions call on rugged individualism and a history of repelling foreigners, writes Pacific News Service contributor Yoichi Shimatsu, as they join the war against Americans. Shimatsu, a former editor of The Japan Times Weekly and journalism lecturer at The University of Hong Kong, is covering the Afghan crisis from Peshawar, Pakistan. Full Article
The United Nations faces an Afghan nightmare
Guardian UK
By Martin Woollacott

Asked to list the requirements for a successful United Nations operation in Afghanistan, a veteran of of the world body's efforts in East Timor and Bosnia raised a warning forefinger. "Number one - don't do it," he said. It was of course meant rhetorically. Everybody who works for the United Nations, from Kofi Annan down, knows they have no choice about taking on the mission to reconstruct Afghanistan being inexorably pushed in their direction by the United States and Britain.

But it was an expression of the perplexity and anxiety among UN officials and experts about a problem which, as another said, lies somewhere on the scale "between incredibly difficult and totally impossible". Cambodia, Bosnia, Kosovo or East Timor seem almost simple by comparison.

President Bush has declared that the UN must have a role in Afghanistan, while the US Congress facilitated the payment of outstanding American dues. However, this Republican conversion has less to do with a change of mind about either the UN or the previously scorned task of "nation building" than it has with America's interests. The US does not want to be the obvious patron of any new government in Afghanistan. That would be counterproductive, both inside the country and in the Muslim world at large. So it wants somebody else to craft an accommodation between the country's rivalrous neighbours and somebody else to help bring a transitional government into being. That "somebody else" is, naturally, the UN. While delegating these taxing functions, Washington seems committed to preserving Pakistan's primacy in Afghanistan and at the same time itself wants to exert a significant influence, at least on security issues. Full Article
[ BACK ] [ HOMEPAGE ] [ OCTOBER ] [ NEWS ]